Welcome to the Urban Hound - where your dog comes to play! Today was our first official day of being open, so we thought it'd be fun to share a couple of "behind the scenes" photos for our first blog post to show everyone how we got ready for all of our furry friends!

While opening a dog daycare and boarding facility is a lot of work, we certainly make time for some fun too!

Since your dog's safety is our top priority, we wanted to make sure we were certified in pet CPR before your hound joined us. Here's "Lamby", our fake dog for the evening. We practiced wound wrapping, CPR and more to make sure that we are always ready should any sort of emergency arise (even though we really hope it never does).




We pride ourselves in being a cage-free, 24/hr boarding facility, but since some dogs really do sleep better in their own crate, we made sure we have some on hand should you request one for your pet. Gus and Katrina made sure that they are comfy - and roomy - for any furry guest that prefers their own space!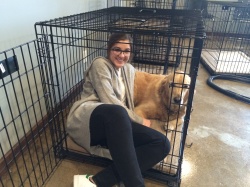 While we were hard at work behind the front desk, Gus jumped up to the counter and decided to give us our first trial at a customer interaction. Good news - we passed! The Urban Hound front office is Gus approved.




What better way to welcome our guests than with an awesome sign to help you locate us and an adorable mat to welcome you in? If you look closely, you can see Milo behind our sign taking a rest!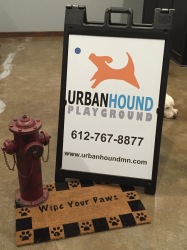 Lastly, we were so excited to get our first client phone call that we couldn't help but snap some photos of the action. Here's Katrina telling our new client all about the awesome things the Urban Hound has to offer!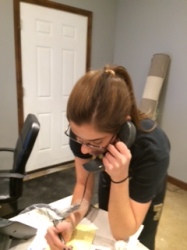 Thanks for checking out our blog here at the Urban Hound! Once we open next Monday, look out for more fun posts featuring our furry friends. We are so excited to meet you all!

-Katrina