Urban Hound Playground isn't just a convenient and fun way for dogs to play – it's also a perfect home away from home. We offer dog boarding for one night or several – with days spent engaging with the other guests. We are one of the only dog boarding facilities in the South Minneapolis area that has 24/7 staffing – meaning your pooch is always safe and sound.
Boarding Services Summary
As one of the Twin Cities' only cage-free dog boarding and daycare facility, we ensure the comfort and safety of your pet 24 hours a day in their natural setting. We do offer crates for dogs that prefer them. Boarding may be booked for one night or several – whatever your family needs!

Checkout for boarding dogs is at 10am on their scheduled day of pick-up. If you are unable to pick up your dog before 10am, not a problem! Normal half day or full day daycare rates will be applied for dogs who need to stay until later in the day.
Our Dog Boarding Facility
The Urban Hound Playground is conveniently located in Minneapolis, Minnesota near Lyndale Avenue and Highway 62. We offer over 13,000 feet of climate-controlled dog daycare exercise space, supervised by pet care professionals – all of whom are doggy CPR certified. Urban Hound features the AquaAir wet/dry sanitation system throughout the entirety of the facility, ensuring all play and dog boarding areas are clean at all times.
Cage-Free Fun
Our dog daycare and boarding is cage-free, meaning hounds are allowed to roam freely with plenty of supervision. Since we have handlers around the clock, your dog will be free to choose where they'd like to sleep under our watchful eye. We recognize that some dogs do enjoy spending time in their kennels, so we always offer crates as an alternative at your request.
Kennel Options
It's a dog's natural instinct to desire the security of a small den – a crate or kennel is often their own special place where your furry friend can rest and relax. For hounds who enjoy me-time, we encourage pet parents to request the use of one of our crates. Dogs can feel free to roam about and return back to their crate when they want a break.
Photo Gallery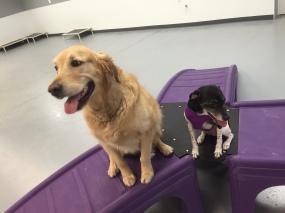 Hours & Pricing
Hours:
Our drop-off and pick up area is open:
Monday-Friday 7am - 7pm
Saturday-8am - 5pm
Sunday: By Appointment Only

Pricing:
Daycare:
$18 half-day
$30 full day

Boarding:
$42 kennel boarding
$49 social boarding

Boarding dogs must be checked out by 10am on their day of pick-up, or normal half day or full day daycare rates will be applied for their additional time spent at Urban Hound.

We also have Daycare Packages:

Full Day Packages:
5 days - $142.50 ($28.50/day)
10 days - $270 ($27/day)
20 days - $500 ($25/day)

Half Day Packages:
5 Half Days - $85 ($17/half day)
10 Half Days - $160 ($16/half day)
20 Half Days - $300 ($15/half day)

*Packages do not expire*



Treat Your Dog…
Contact us today about scheduling a Meet and Greet session for your pet!