We hope everyone has been having a wonderful summer so far! Over the past few months Urban Hound Playground has been steadily growing, and we thought it was time to give our cherished current and inquiring customers an update of all the awesome things happening here at UHP. We are proud to report that we have surpassed the six month mark of being open. Better yet, the number of dogs we have in daycare continues to grow each week! Many of the dogs who attend our Meet and Greets have quickly become familiar faces here at UHP. Many of our regulars have settled into nice routines, such as coming every Monday/Wednesday/Friday or Tuesday/Thursday- and even some we get to see every day! We always try to accommodate owners' schedules as best as we can!

While we started out with one big playroom, we have now added white fencing, allowing us to now have five playrooms for your precious pooches to enjoy. Having the additional playrooms allows for closer supervision of the dogs, as well as the ability to accommodate all shapes, sizes and temperaments. Above all, it helps us ensure that your dogs have a safe and fun experience during their stay here at UHP. We have been successful at accommodating all kinds of dogs, from large great danes down to little french bulldogs. Our toy collection is ever-growing for those that enjoy toy time. Our staff has done a lot of research, and even enlisted a few of our regular pups to be toy testers :) So if you need any advice as to which toys Fido or Rufus would most enjoy- and better yet not destroy, we've got you covered!
The dogs admiring the new fencing!!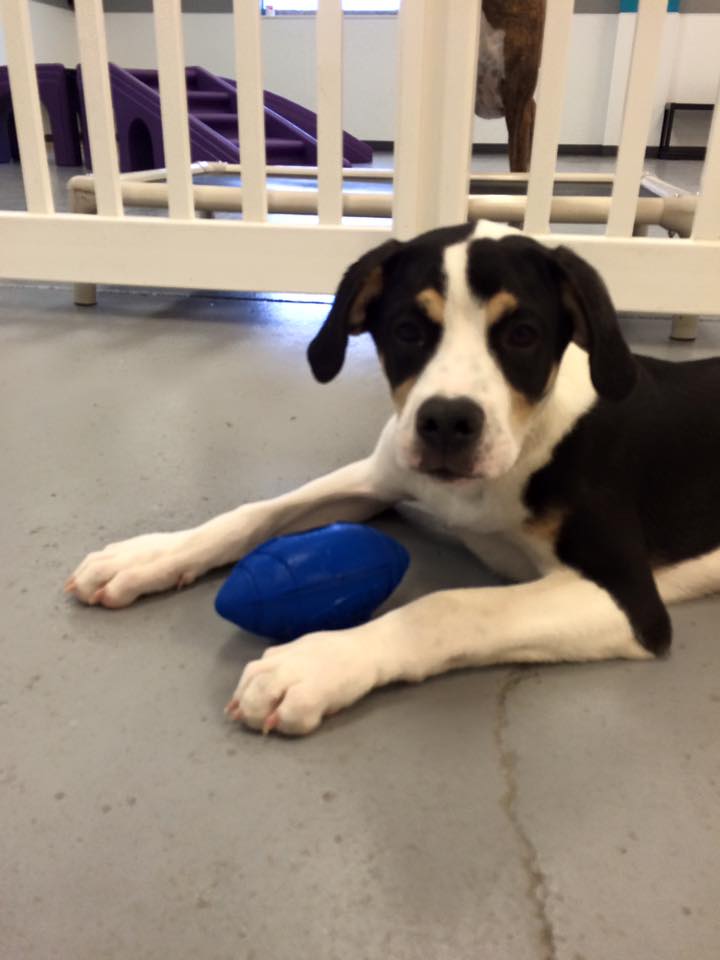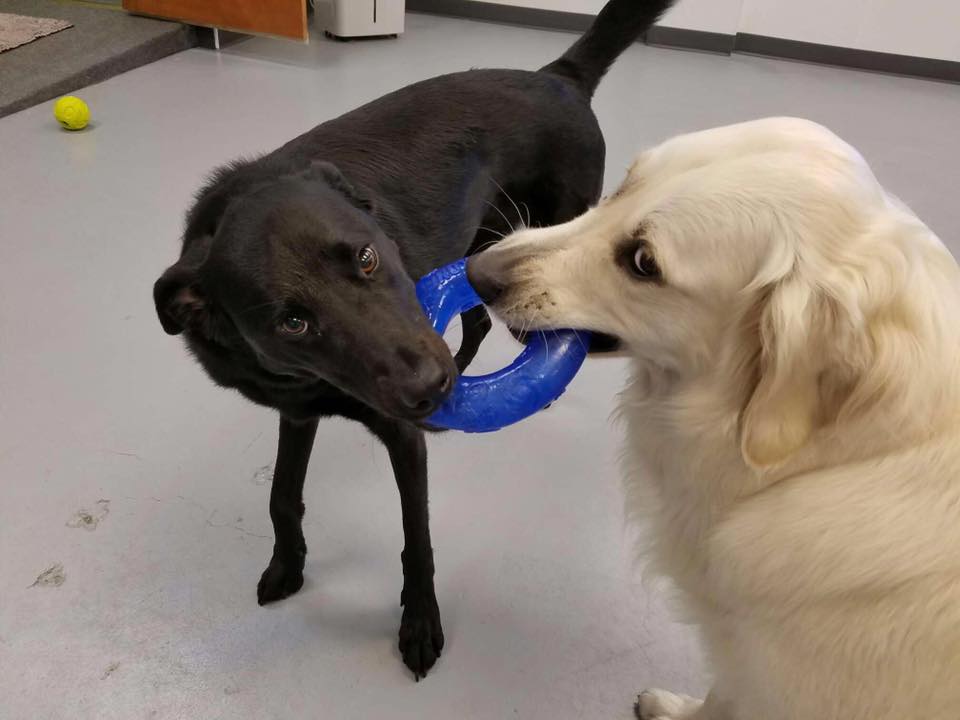 These squeaky rings made by Kong have been tug-o-war tested and approved!!

This summer has proved to be a hot one so we have invested in some fun sprinklers and even kiddie pools to keep the pups cool! In fact, the kiddie pools were such a hit with the dogs, we had to run out and purchase two more after the original! Here at Urban Hound Playground we understand that it is not always ideal to pick up a wet pooch, so we always try to end it around 2:00pm to help ensure your dog is nice and dry by the time they are picked up. If you would prefer your dog not participate in water play, just let a UHP staff member know and we will make sure to accommodate your request.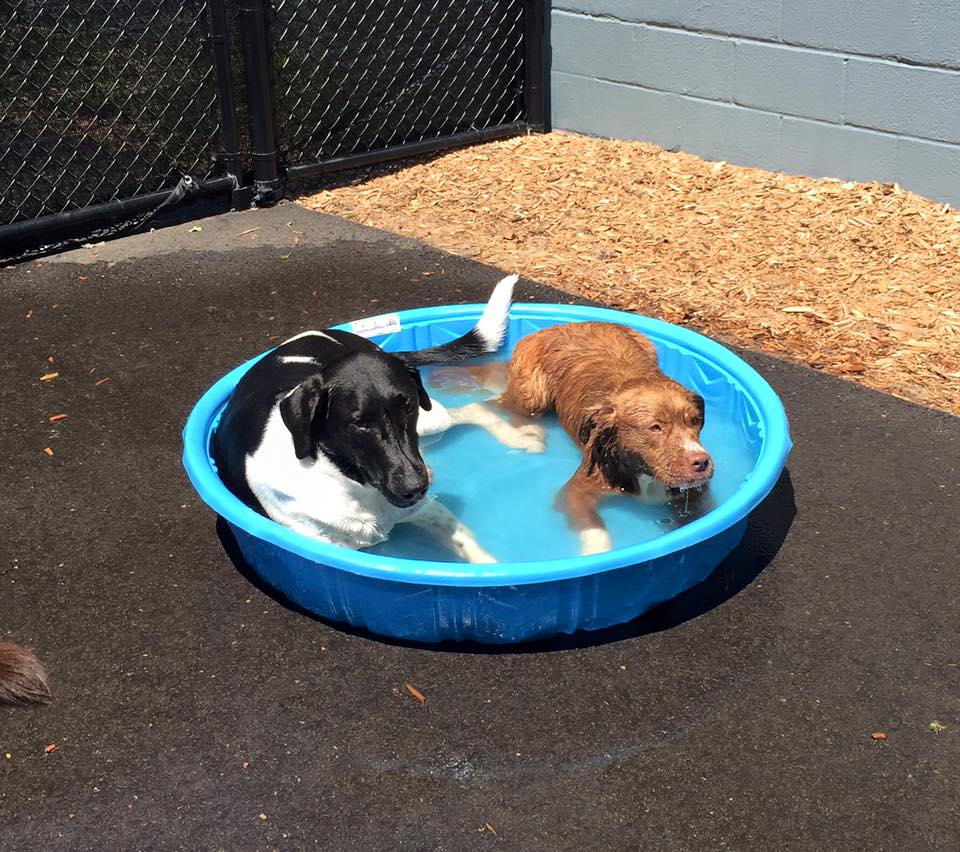 Bailey enjoys some sprinkler fun!!! Deacon and Winny go for a dip!!!

Last week some of our awesome staff members (if we do say so ourselves!) were a part of the Diamond Lake Neighborhood Business Alliance Ice Cream Social. We were SO excited to meet some new friends as well as see some familiar faces and wagging tails. We're so grateful to all of those who braved the heat on Thursday in order to show their support not only for Urban Hound Playground, but all of the other wonderful businesses that we are proud to call our neighbors. Thank goodness for that ice cream though, right?!




Our resident in-house baking wiz, Emma, along with Julie, made some adorable and healthy homemade treats in the shape of bones, which we gave away for both the dogs that braved the heat and those that stayed cool at home. As an added bonus for those pups that did come out, Emma and Julie made some frozen yogurt treats topped with peanut butter. Any dog that stopped by our booth gobbled them right up! Don't worry, we had treats for the humans too!
We'd like to give a special shout-out to our doggy friends Fred and Sonny, as well as their awesome owners, for stopping by and supporting Urban Hound Playground! Fred and Sonny are two dogs that truly make all of us here at UHP excited to come to work every day!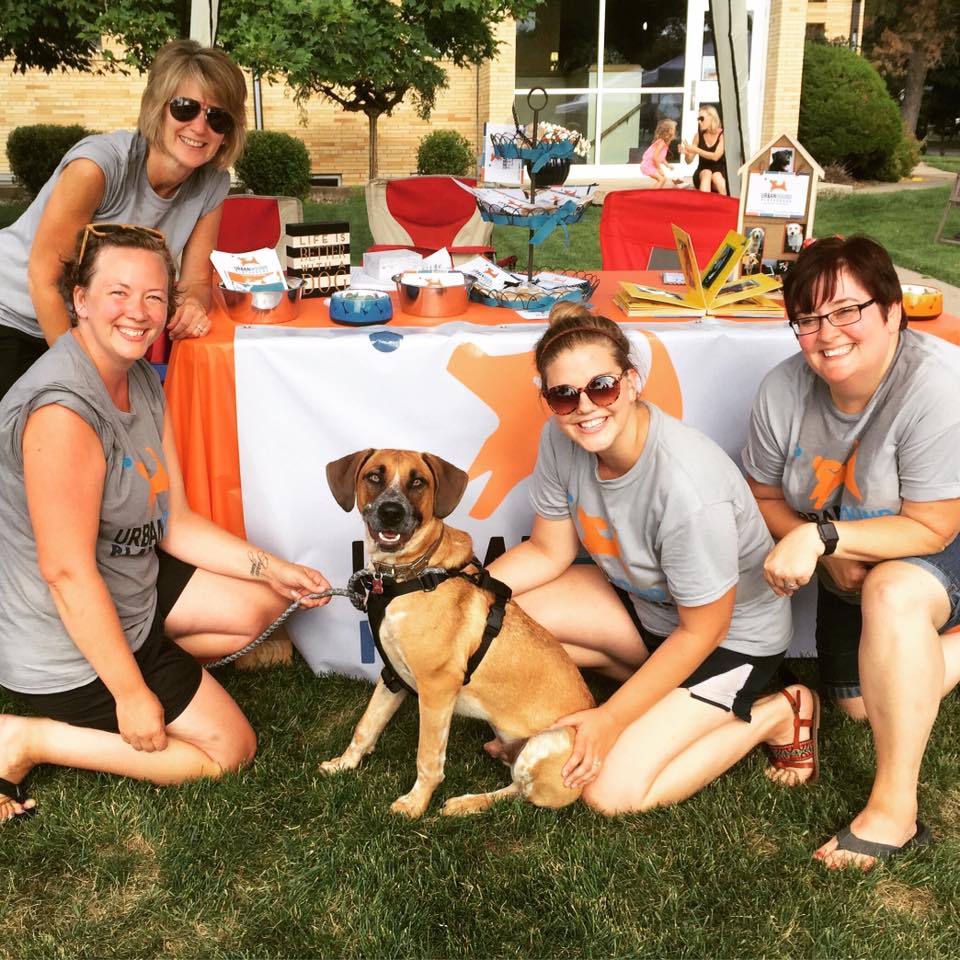 Mr. Fred!!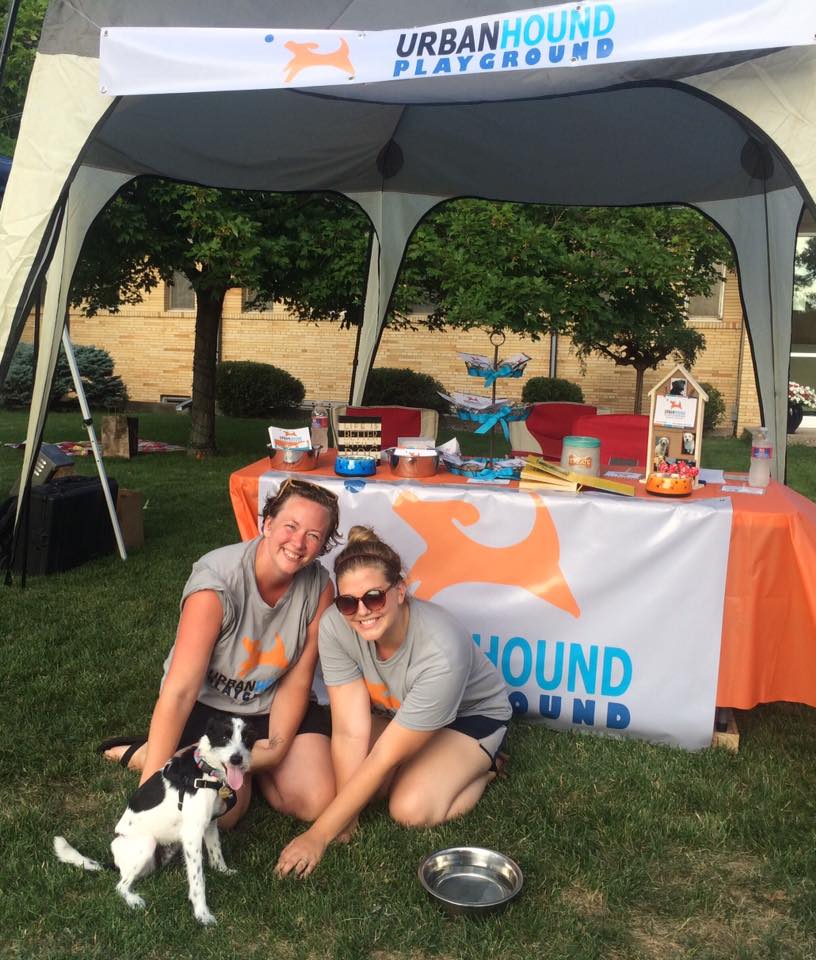 Mr. Sonny!!


REGULAR SPOTLIGHT: Fred

We thought it would be a fun idea for each new post on the blog to showcase a different regular each time. These are the dogs that consistently come at least once a week, every week. You all see the photos we post every week and we often get owners asking more questions about the silly faces they see, so we thought this would be a good way for owners to get to know their dogs' daycare friends!


Our first spotlight will be dedicated to Mr. Fred!
Birthdate: 7/24/15
Breed: Lab/Cattledog Mix
Coloring: Tan/White/Black
Nickname: Freddy
Favorite Toy: Balls or anything that squeaks, especially the kong ring!
Been at UHP since: 1/2/16
Best Doggy Buddies: Lionel, Shephard, Hank (tan), Daisy and Ozzie



Fred's parents rescued him from Luv Me Again Animal Rescue when he was just eight weeks old. He and his litter-mates were all named after the Flintstones, and Fred's parents thought it was a good fit for him, and we have to agree. Fred was one of UHP's first dogs and quickly became one our favorite regulars! He's been coming to play since January of this year, when he was only five months old! While he's grown a lot in size, he's also grown pretty deeply into all of our hearts. Fred likes it so much here that he's even brought a few of his friends to play as well! One of those friends happens to be his cousin, Lionel! When they're together it's double the trouble but also double the fun! Fred is very playful, loving, full of energy and always up for a good snuggle! In fact, we're pretty sure he thinks he's a lap dog ;) He quickly makes friends with all other dogs and staff members he meets, and is especially friendly to the new dogs that come in. He's always up for toy time or a dip in the pool outside. Plus those adorable puppy eyes and that Fred head tilt, how could one resist?! We hope you enjoyed learning a little more about Fred and why we love him so much!
We also celebrated Fred's first birthday this week! Happy Birthday, Fred!! Be sure to check out our facebook page for some more cute pictures of his UHP birthday party!!